Leonard Cohen Concerts -- Vancouver B.C. 04/19/09 and Seattle WA 04/23/09





The Vancouver Leonard Cohen Concert is rated 5 Hats out of 5 on the Leonard Cohen Concert Hat-o-meter.





The Seattle Leonard Cohen Concert is rated 5 Hats out of 5 on the Leonard Cohen Concert Hat-o-meter.
After we had waited patiently for lo these many years, Leonard Cohen finally came down from the mountaintop and to our collective delight embarked on his World Tour of 2008-2009. We had been following the Canadian, European, and Australian legs of the tour, basking in the repeated rumors of a series of U.S. engagements, hoping that there would be something close enough to home that we could finally see the guy. And to our further delight, indeed our incredulous delight, he was actually scheduled to appear in Vancouver B.C. and right here in Seattle - giving the latter a much needed kick in the cultural pants. We had somehow missed his appearances in Seattle in 1988 and 1993, and had been stalking him ever since. We were determined to avail ourselves of this opportunity.
We had been checking the Ticketmaster website since the Seattle concert date was announced, and after weeks of seeing "Ticket Sale Date TBD", finally on March 2 Ruth called to announce that a friend of theirs had called to let them know that ticket sales for the Seattle show had started that morning, and how's about they jump in and get tickets for the 4 of us? Yes, yes, yes, and yes... emphatically yes, thank you! And thus it was done:

Sue was in Thailand at the time, and was duly informed of this wonderful turn of events. And it wasn't long after she got home that we agreed that we really owed it to ourselves to make a trip up to Vancouver for the concert up there too, eh? And thus this too was done:

We were, however, somewhat concerned about the warning that was printed on the Vancouver tickets:

We were quite sure that we had requested tickets to a Leonard Cohen concert, so what was all this talk about pucks and hockey sticks and balls and bats and racquets, eh? We figured that maybe it was some sort of Canadian National Standard Disclaimer that was applicable to all events held in the country, just in case they degenerated into ice hockey or cricket games or whatever. Nonetheless, we found ourselves heading north at 12:30 on a fine Sunday afternoon, eagerly anticipating the evening's event, but less than enthused at the prospect of getting home at 2:30 or 3:00 AM and having to get up and go to work shortly thereafter. We decided to allow plenty of time for the drive to Vancouver - hence the early departure - and figured that we would devote a large part of the afternoon to wandering Vancouver's scenic waterfront.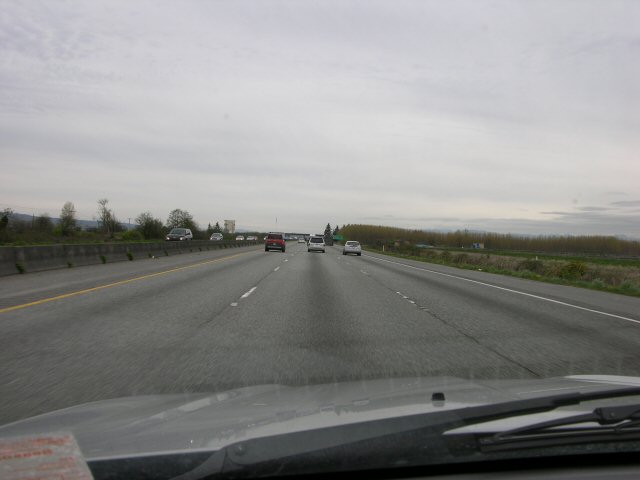 We had discovered that the Vancouver 10K Sun Run was scheduled for 9:00 that morning in the immediate vicinity of the concert venue, and not wanting to contend with 55,737 runners and their associated friends and family members, timed our trip for a mid-afternoon arrival, hoping thereby to avoid the thundering herd.
All was well until I-5 traffic came to a screeching halt midway between Mount Vernon and Bellingham, at which point we spent an hour sitting in stalled traffic because of a Toyota pickup sitting forlornly on its lid on the north-bound shoulder. The 2 lanes of traffic had to merge into a single lane, and once again the concept of merging seemed, as it typically does, to elude the intellectual grasp of the otherwise alert and astute Washington motorists (ahem).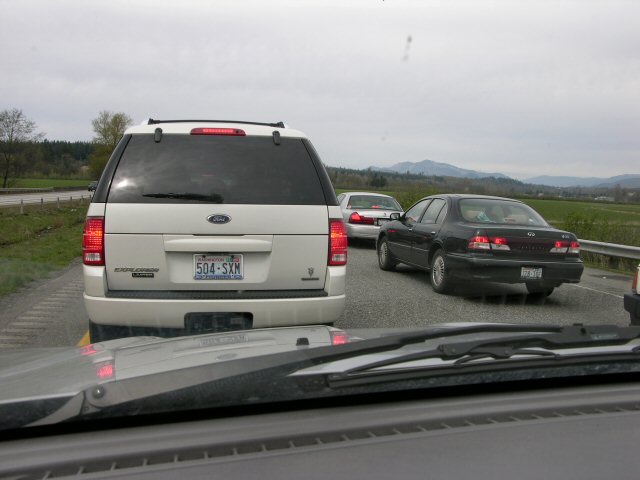 The view to the north.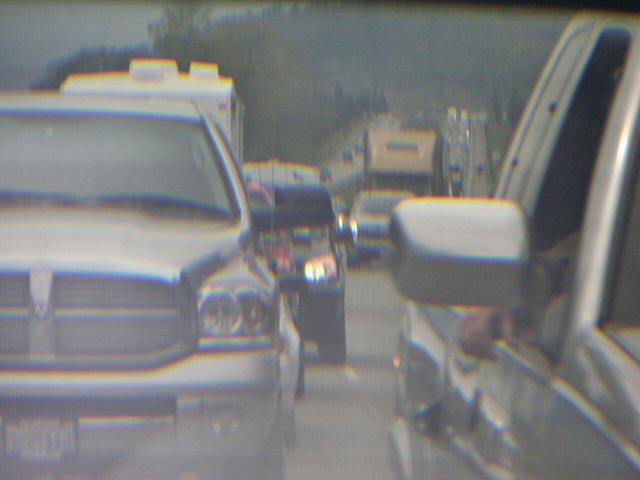 The (rear-view mirror) view to the south.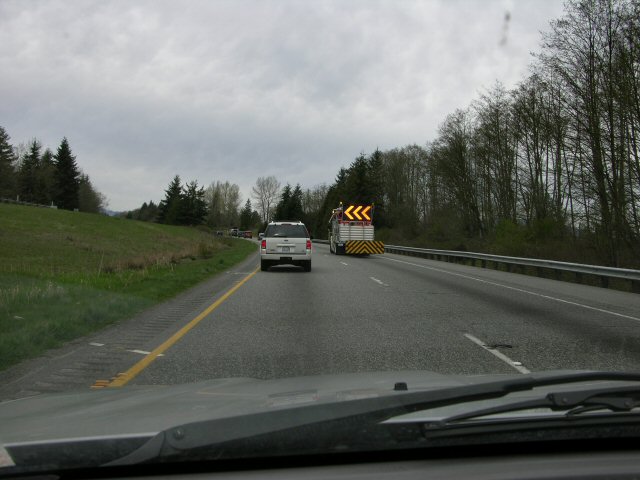 The problem.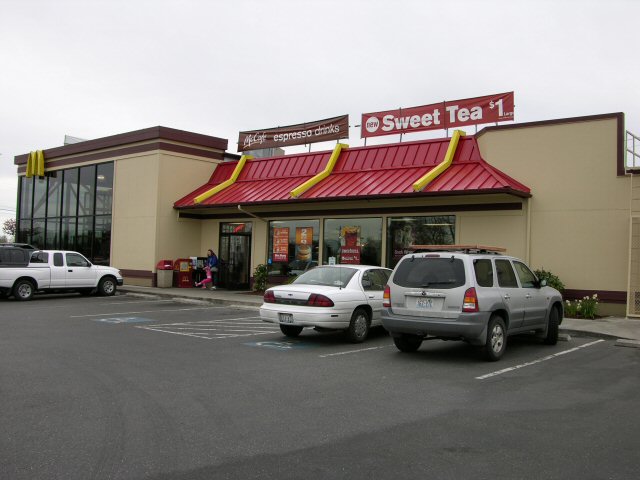 We decided to stop at the MacDoo's just south of Blaine to freshen up a bit. We needed it...
In any case, the next obstacle we faced was the Perilous International Border Crossing. We were still baffled by (and, we must admit, more than slightly irritated at) the inquisition to which we were subjected by a most unpleasant representative of the Canada Border Services Agency last December while on an overnight foray, with Mama Helen in tow, to Vancouver to see Handel's Messiah performed in the wonderful old Orpheum Theater. The inquest began with the representative demanding to know if David had ever been arrested. "No". Had ever been arrested for a drug-related offence. "No". Had ever been arrested for drunk driving. "No". Had ever been arrested for a weapons-related offence.* "No". Had been fingerprinted, and when, and why - the "record" showing that fingerprints had at some point been taken. "No idea if or when or why". Again, had ever been arrested. Again, "No". Again, had ever been arrested for a drug-related offence. Again, "No". Again, had ever been arrested for drunk driving. Again, "No". Again had ever been arrested for a weapons-related offence. Again, "No". Again, had been fingerprinted, and when, and why - the "record", again, showing that fingerprints had at some point been taken. Again, "No idea if or when or why". Ask, reply, repeat. What exactly is the problem here, eh? If we didn't already have the concert tickets and motel reservation - and an 82 year old in the back seat - we would likely have decided that we really didn't want to enter Canada all that much after all, since it was made abundantly clear that we were not welcome. We never did figure out what the problem was, but decided that if Sue was at the helm maybe things would go more smoothly.
* One might reasonably suppose that since it had already been established that no arrest had taken place, it would follow by no great leap of reasoning prowess that consequently no drug-related, or drunk driving, or weapons-related, or indeed any other type of arrest, had taken place. It was tempting to point this out to our interrogator, but our dialectical search for meaning and truth had already plunged into the depths of unpleasantness. Lucidity and affirmation had eluded us once again. Or perhaps it was we that had eluded lucidity and affirmation? A subtle, but profound, distinction should somehow be made here.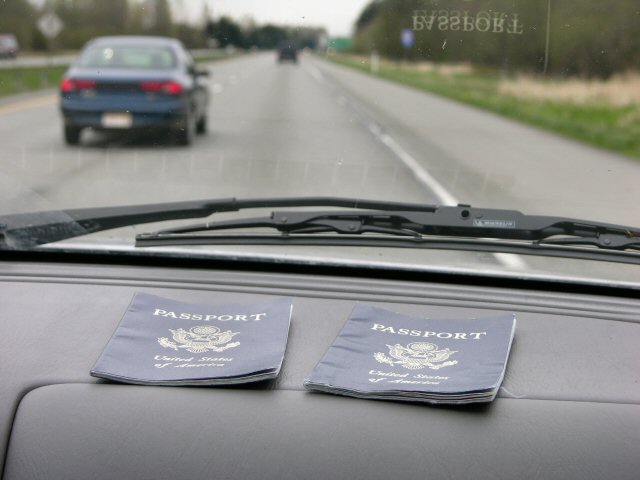 We made sure that our documents were in order (wrinkles notwithstanding) and would fall readily to hand when needed, puzzled our way around the wayward motorist driving mindlessly in both lanes at once (still apparently confused by the merging that had taken place miles ago),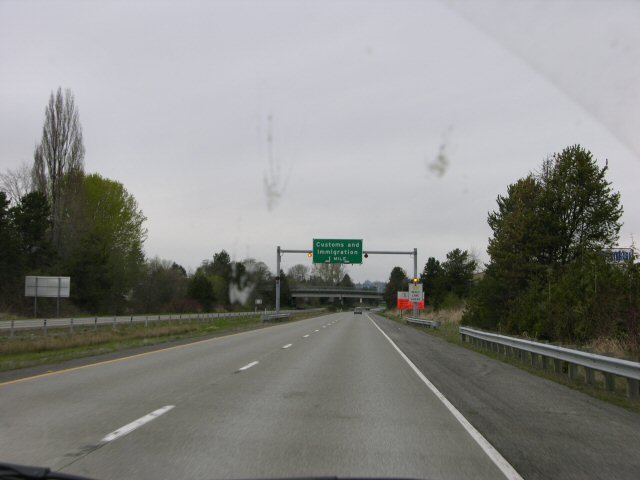 and closed in on the Perilous International Border Crossing,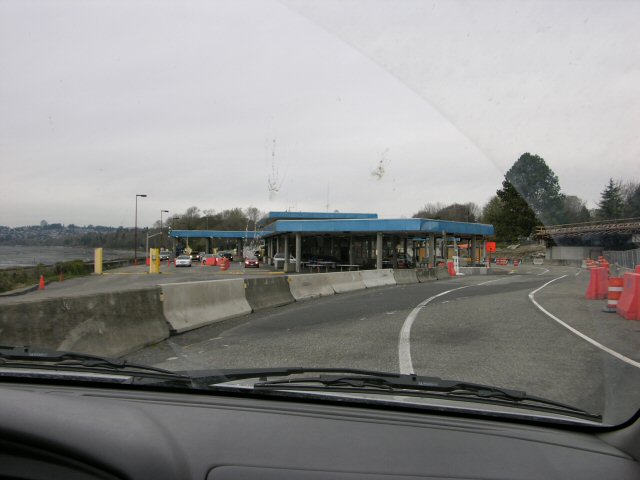 first skirting the U.S. inspection facility,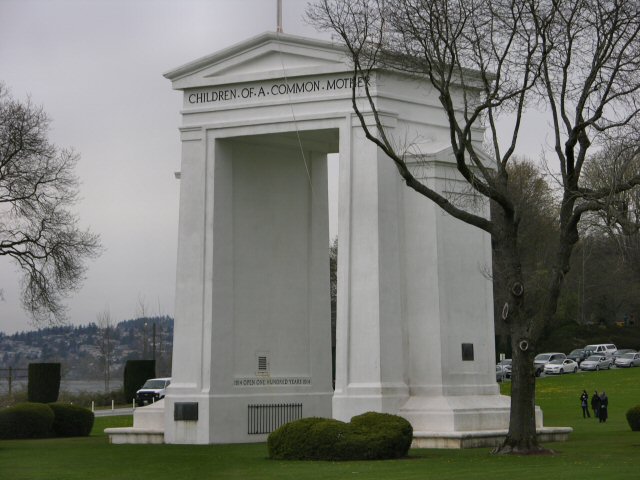 then motoring smartly through the DMZ,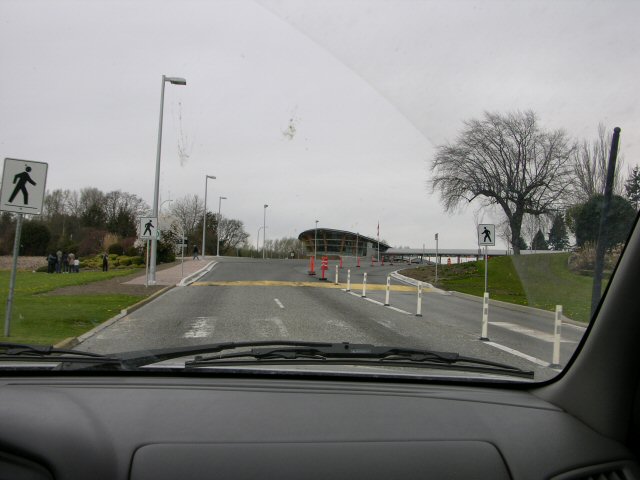 and finally approaching the Canadian inspection area, where we presented our passports, smiled tentatively, and hoped for the best. Where were we from? "Redmond, Washington". Any alcohol or weapons? "No". Why traveling to Canada? "A concert in Vancouver". What concert? "Leonard Cohen". What time? "8 o'clock". Ok. Enjoy your visit.
Yeppers indeed - this is more like it, eh?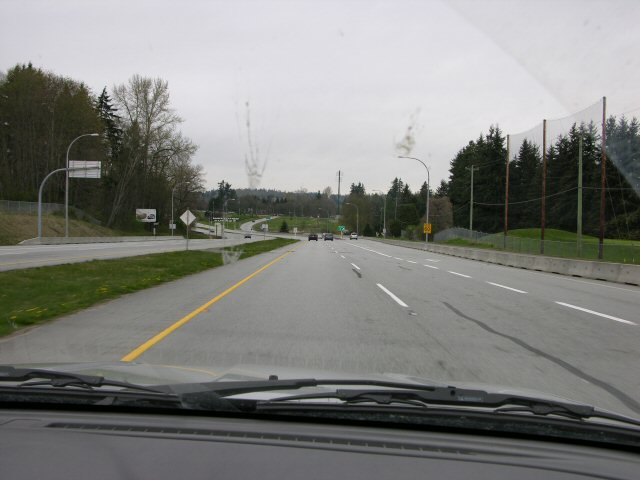 We wasted no time beating an asphalt path northward,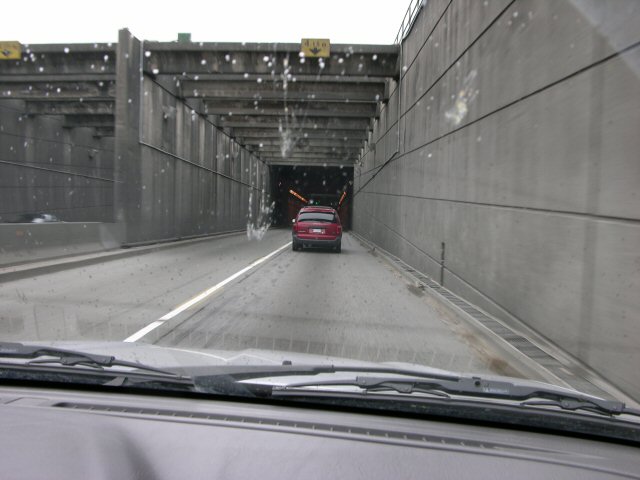 and were all-too-soon facing our next challenge: the Scary Tunnel running under the Frazier River. Hoping that our newly-heightened confidence level (bolstered in no small part by our incident-free Perilous International Border Crossing) was justified, we rolled up the windows and secured the periscope, preparing for submersion.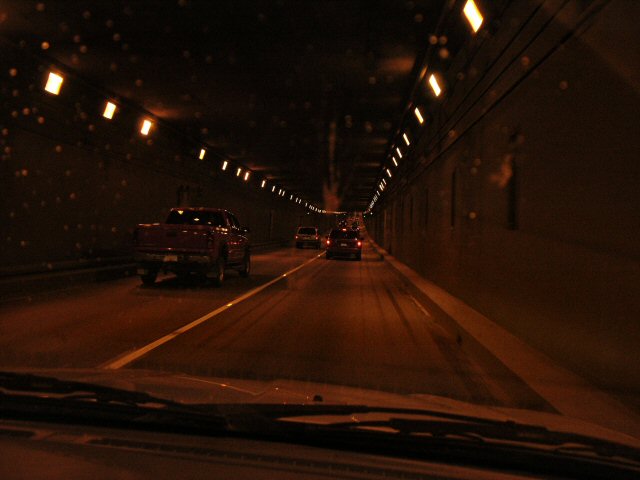 Pretty scary stuff,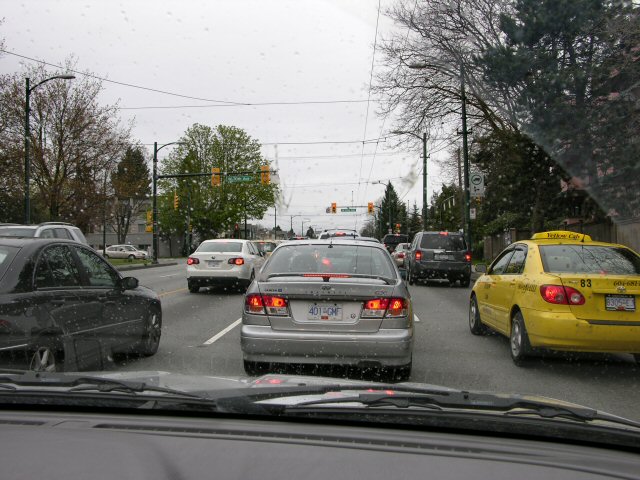 but we emerged unscathed, and soon found ourselves slowly navigating our way through the southern reaches of Vancouver, B.C.,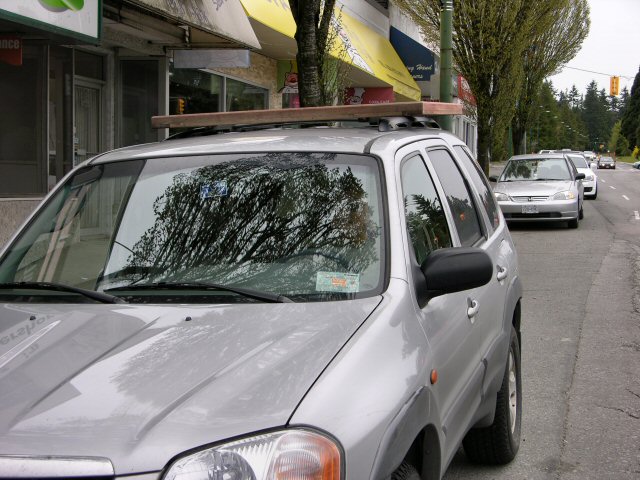 where we stopped at an ATM to get our hands on some Canadian money - the Official Leonard Cohen Tour T-shirt would not come cheaply, plus we were getting hungry.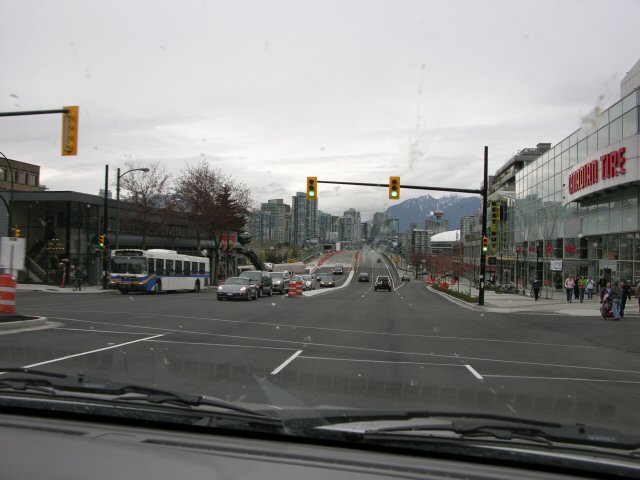 We were getting real close now - the Cambie Bridge loomed in the distance, to be followed by a quick right onto Pacific Blvd, and then figuring out the parking situation, trying to avoid the $27.00 parking fee at GM Place, which, as it turns out, is where the Vancouver Canucks Ice Hockey guys play, which perhaps explains the puck and hockey stick disclaimer on the concert tickets.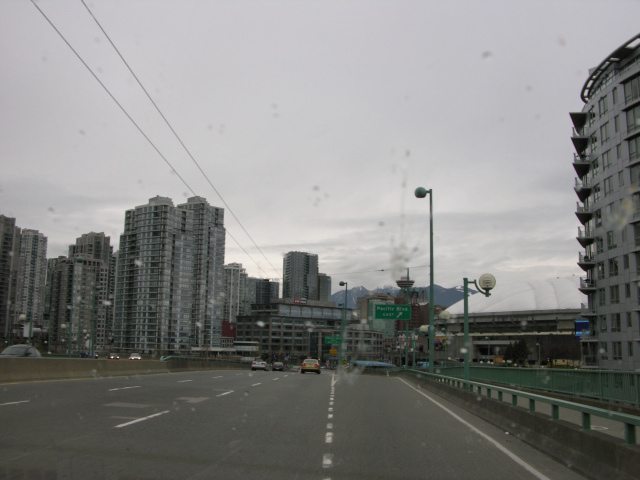 Here we are about to veer off to the right onto Pacific Blvd.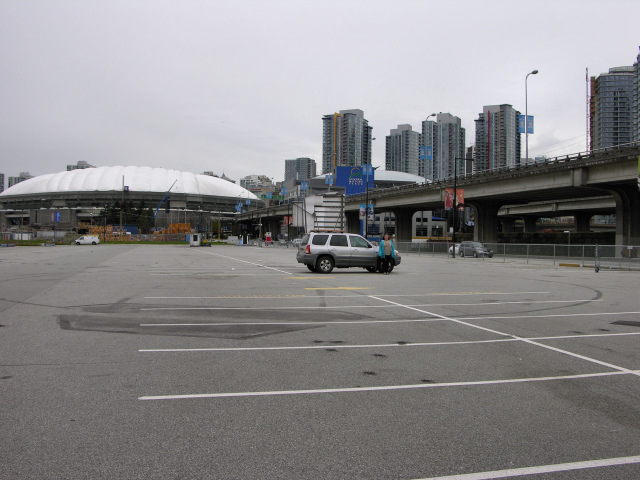 We drove around, circling like vultures, looking for the cheapest parking option we could find, finally pouncing on an empty $10.00 parking lot 2 blocks from the concert venue, handily beating the other concert-goers to the prime parking spots, given that the concert was still over 4 hours away and the lot was therefore empty. We shrewdly parked in the singularly optimal corner spot, thereby aiming us directly at the exit and granting us expedient egress directly to Quebec Street and points south when making good our late-night, post-concert departure. At this point it was only 3:45, so we still had plenty of time for our much anticipated walk along the southern fringes of False Creek to Granville Island.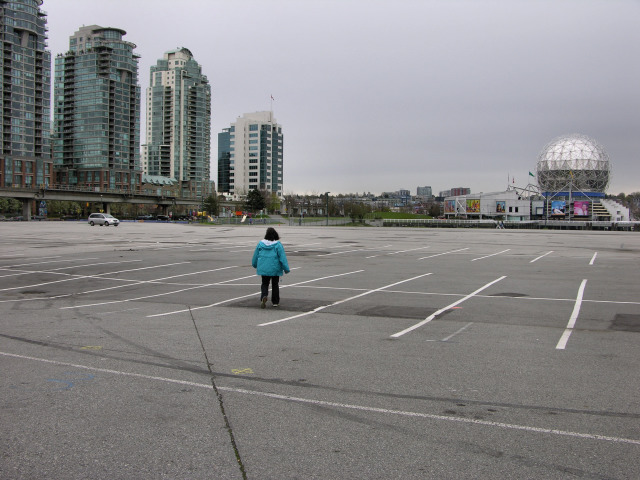 The only other vehicle in the vast parking lot was a van with a student driver busily driving around in circles. We wisely gave the aspiring driver a wide berth as we headed toward the remnants of the 1986 World's Fair, the most noteworthy of which is the former Expo Centre, now the Telis World of Science.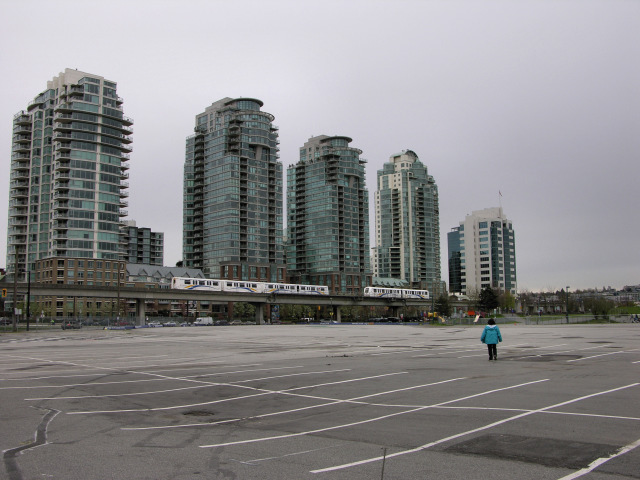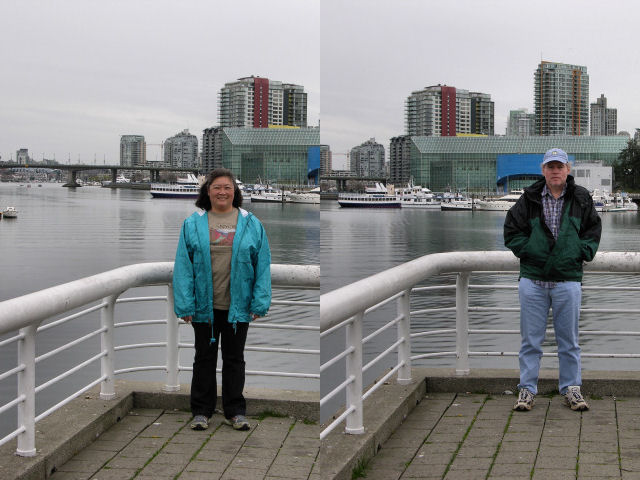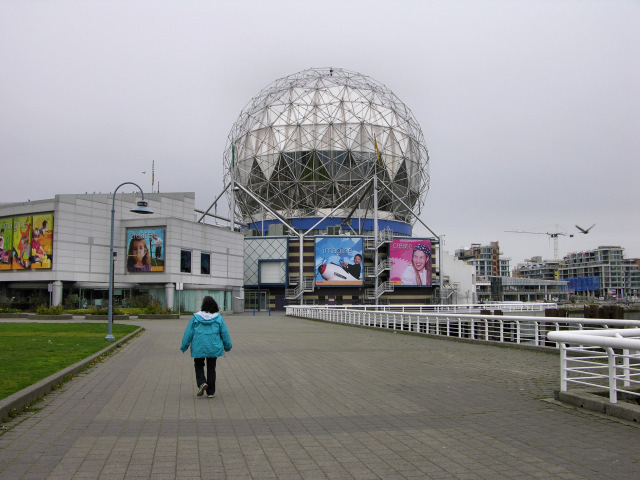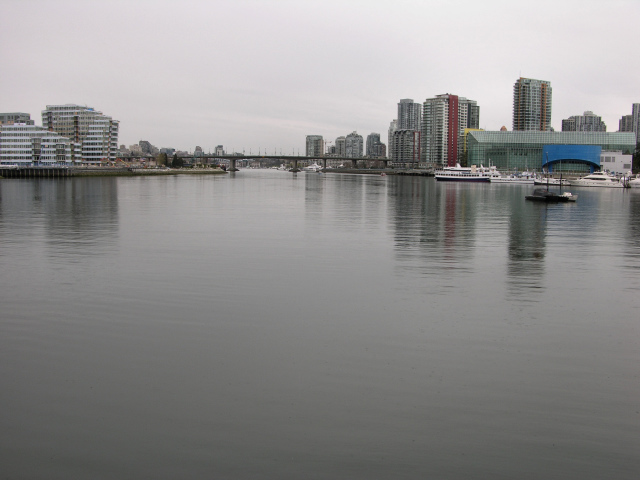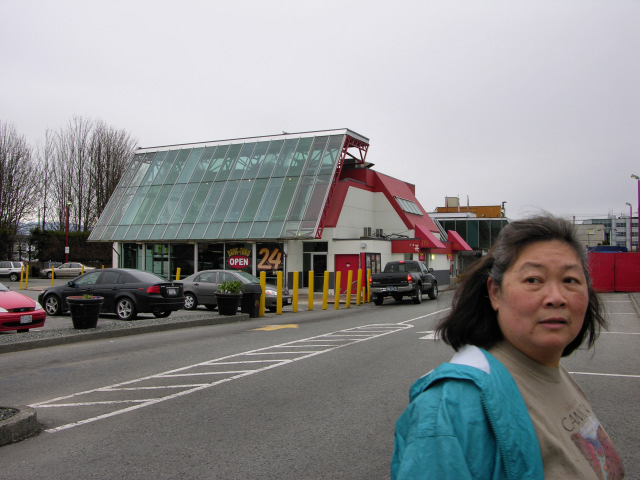 It was now way past lunch time, and we were getting hungry. A particularly ugly McDoo's loomed on the eastern horizon, but we thankfully noticed a BK a couple of blocks further down the street.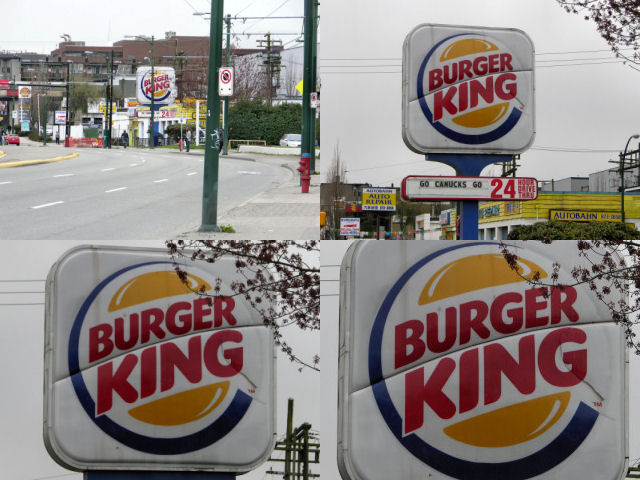 As we've said many times, it's not that BK is good, it's just that it's less bad than the other guys.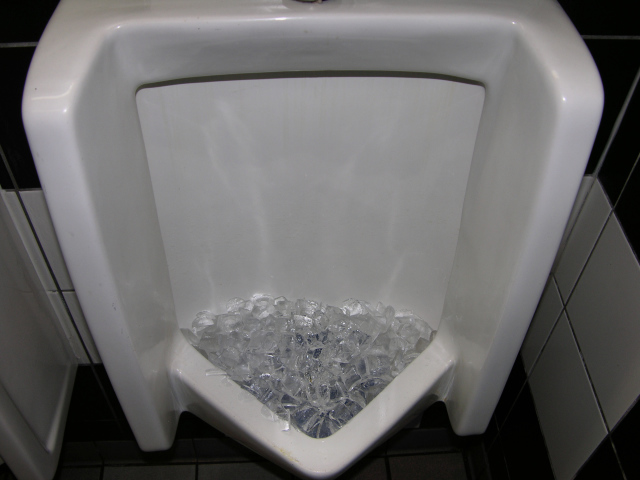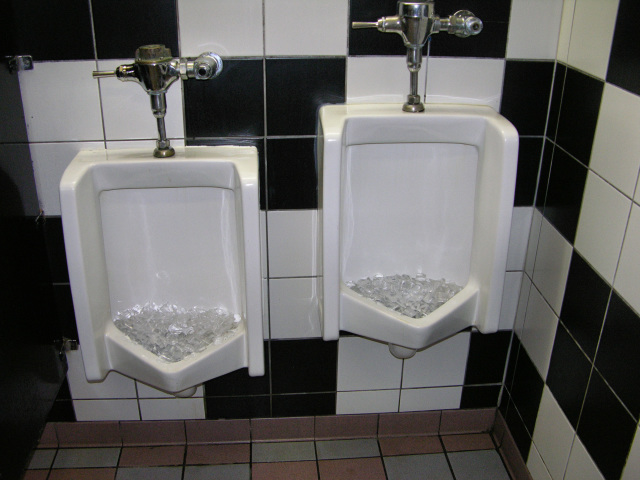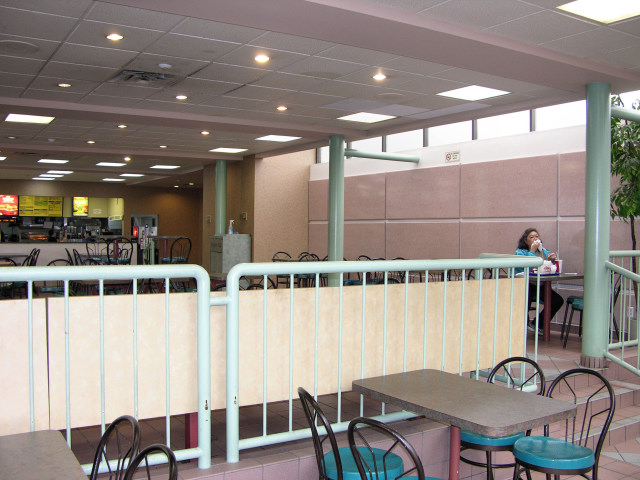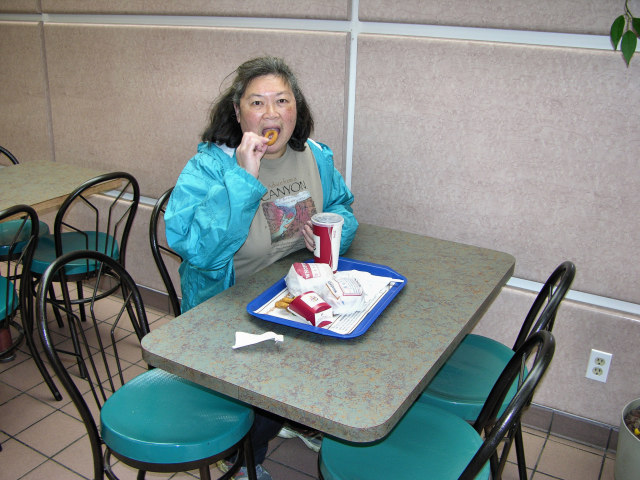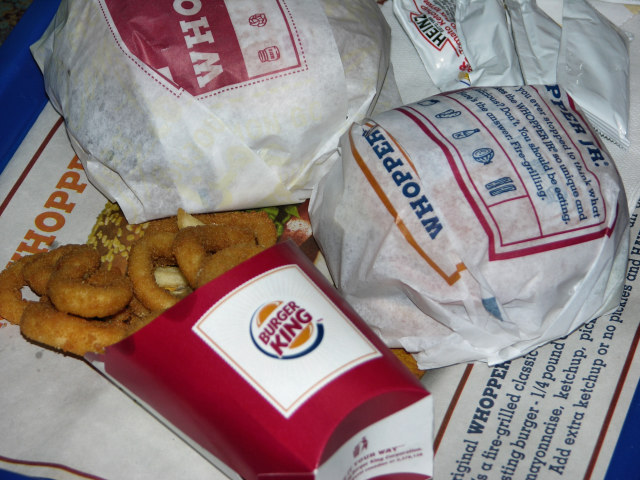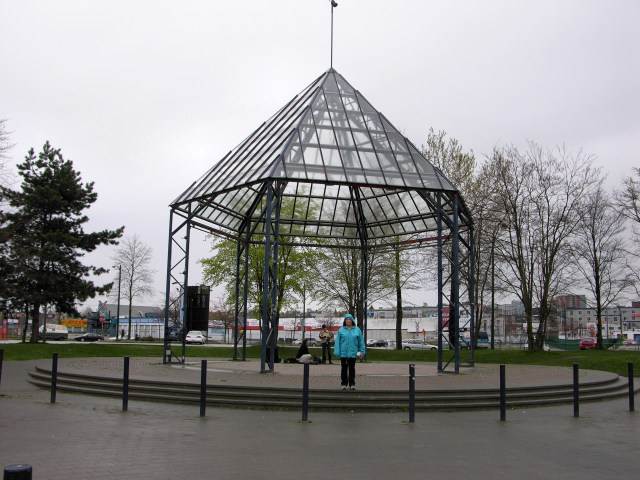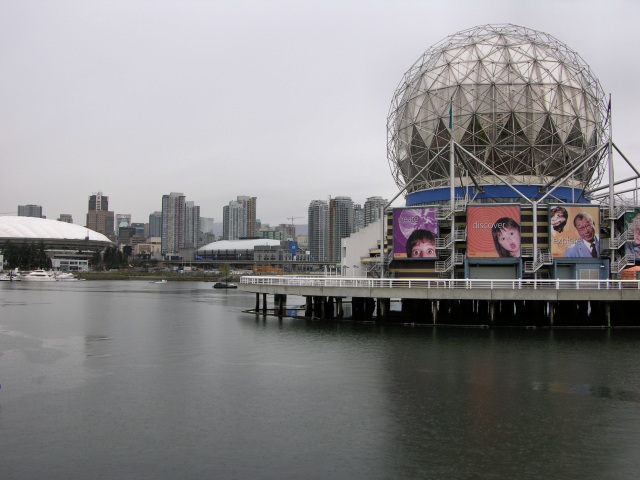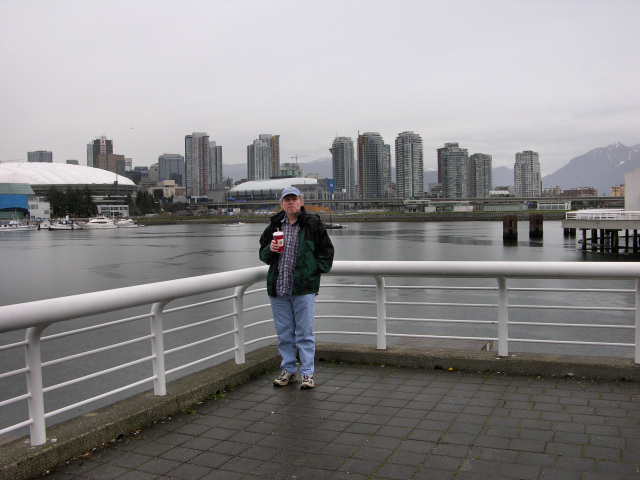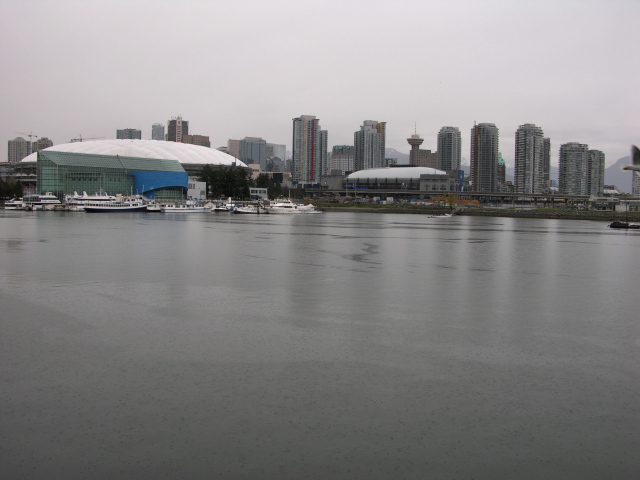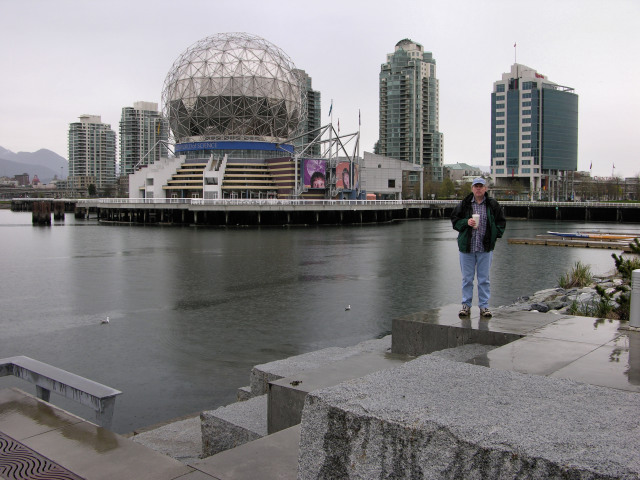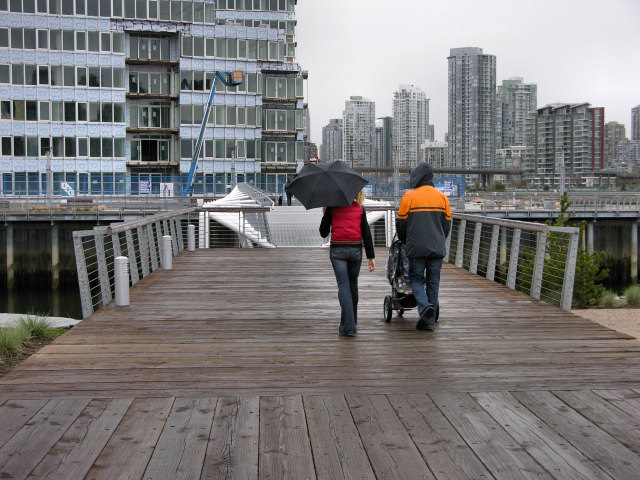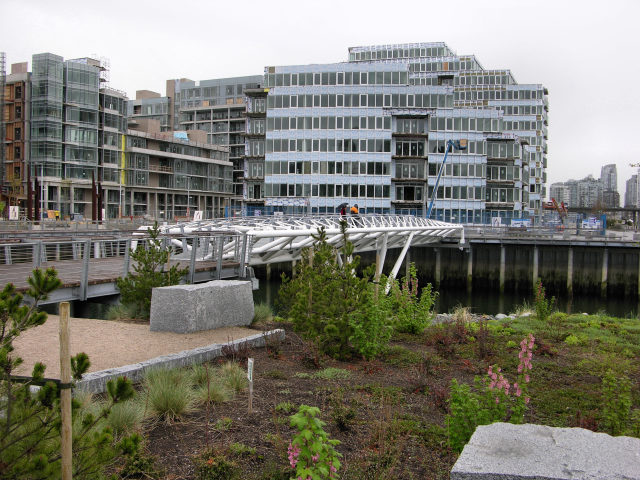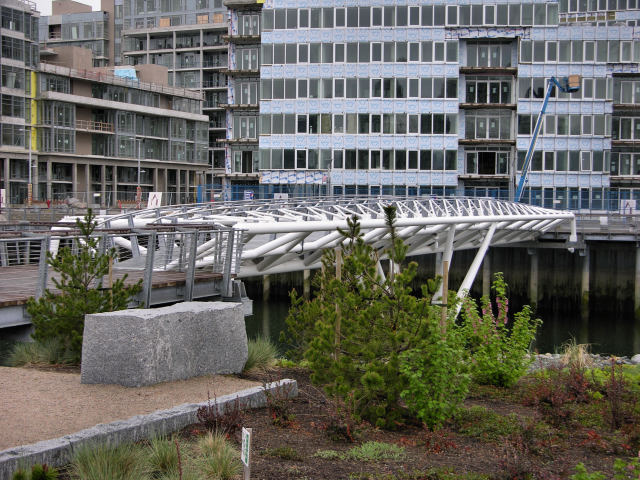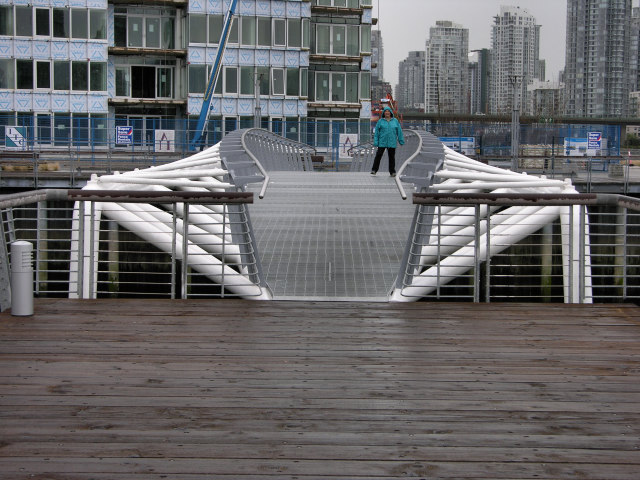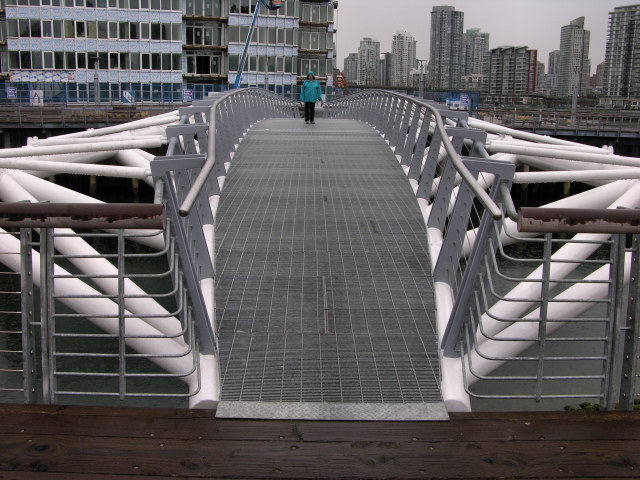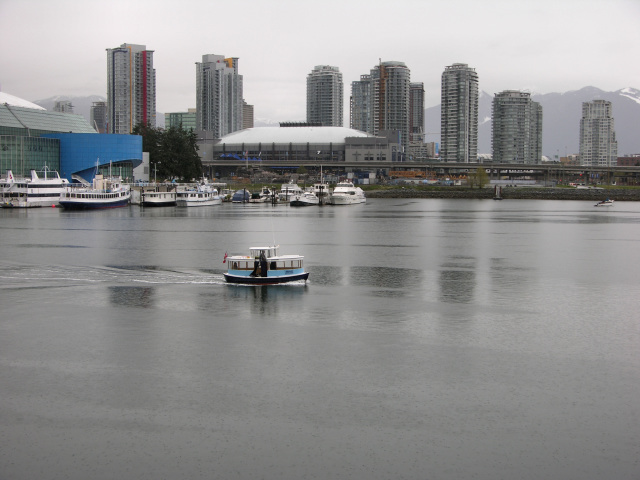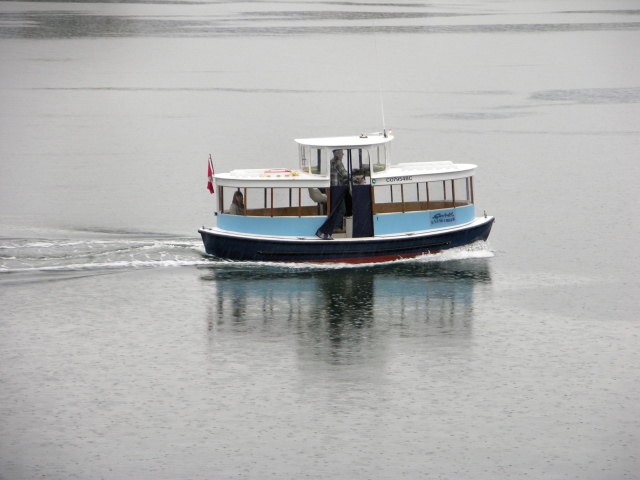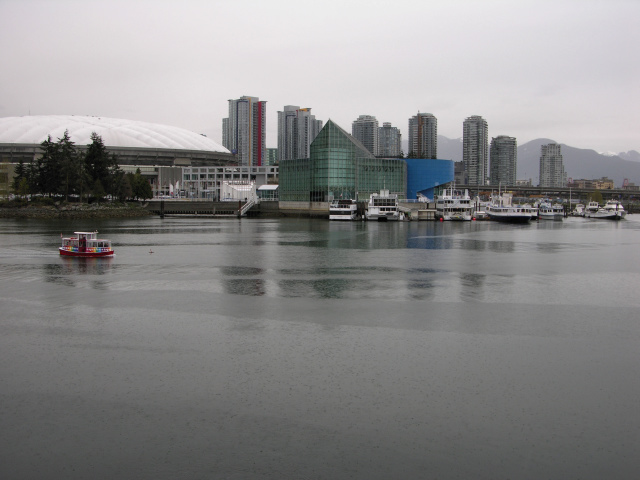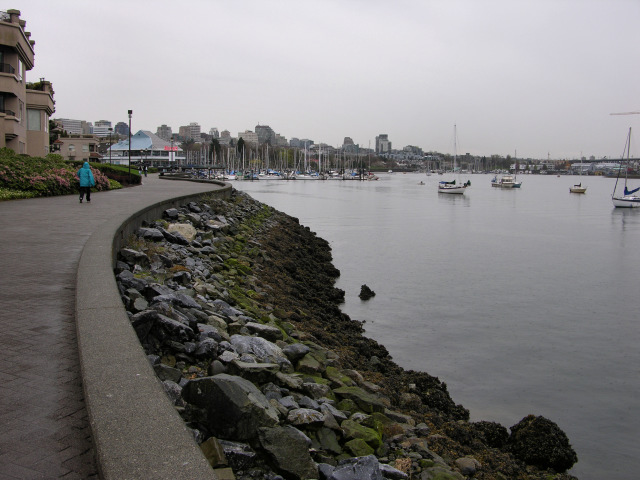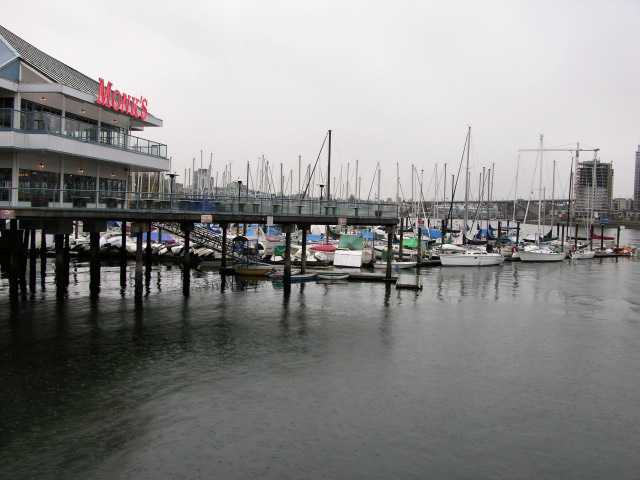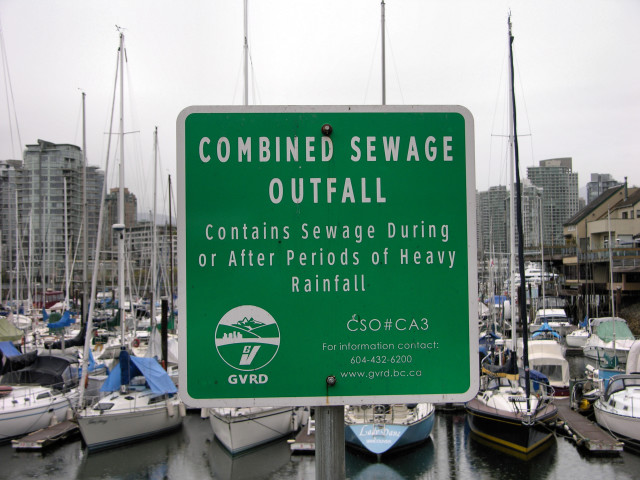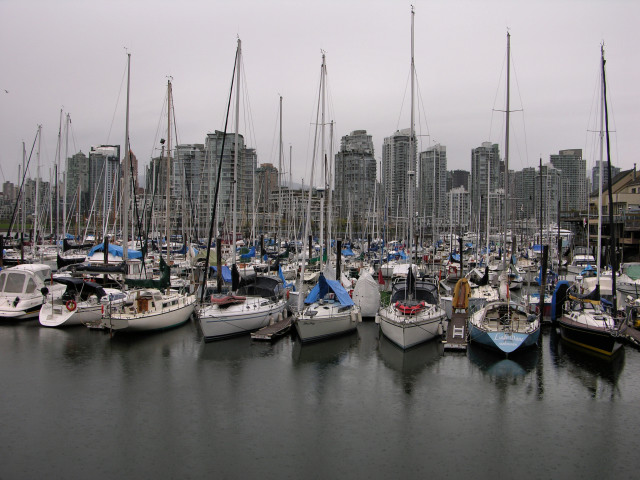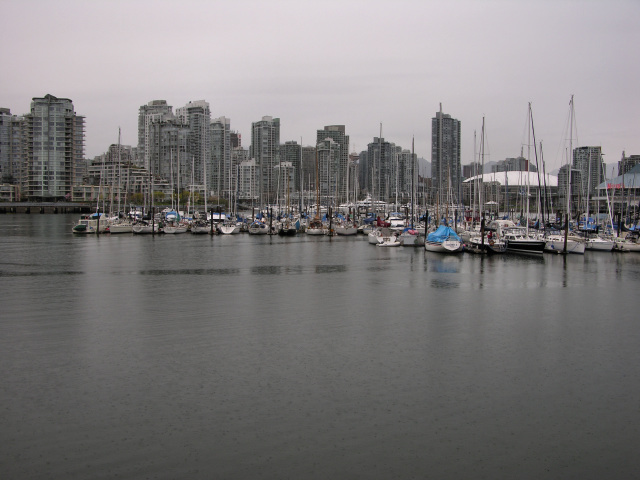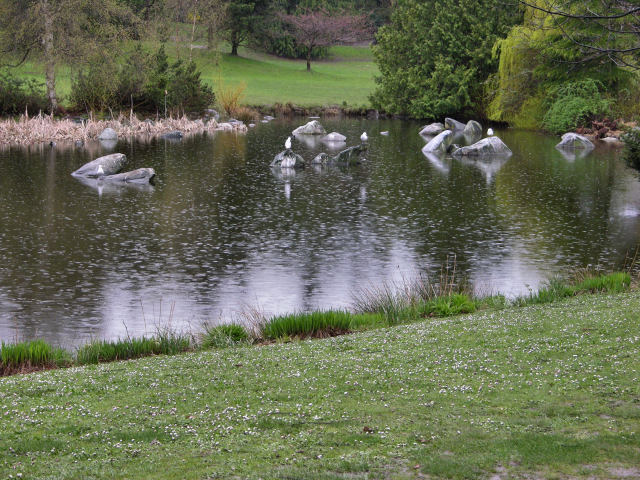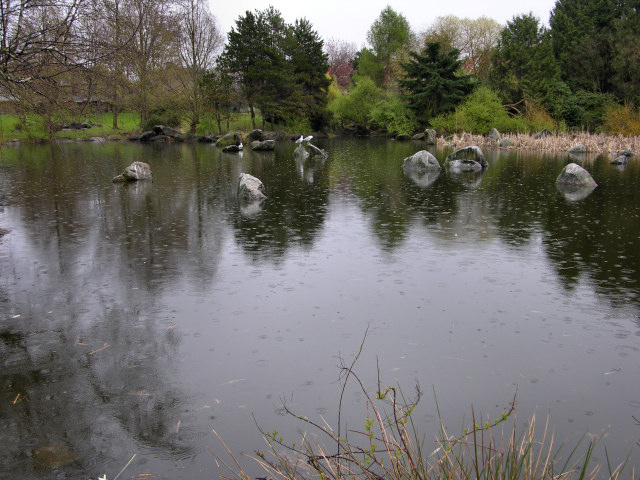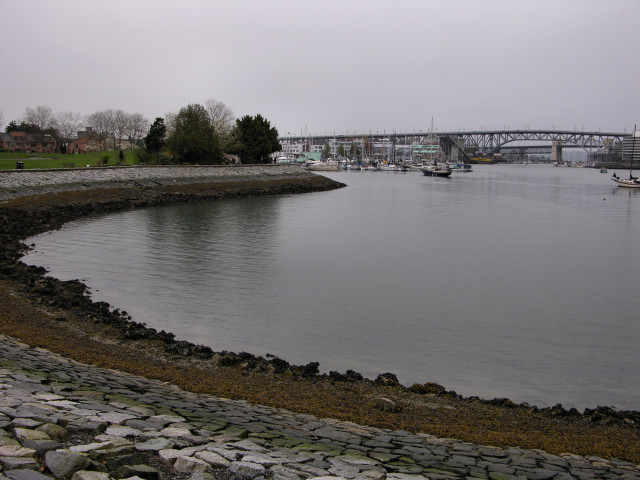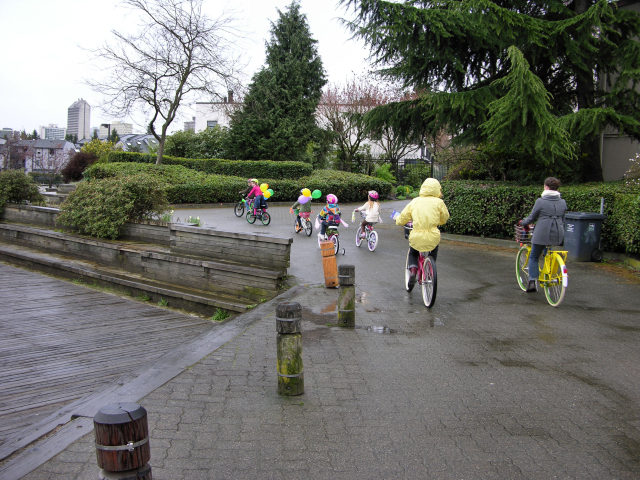 We cowered off to the side of the walkway to narrowly escape this marauding gang of young bicycle hoodlums as they evaded the pursuing adult authorities.
It was now after 6:15 and we still had quite a distance to go to catch the 6:30 boat from Granville Island back to Expo Centre. There was no time to stop and take a picture, so this was taken while 'on the hoof', as the blurriness would suggest.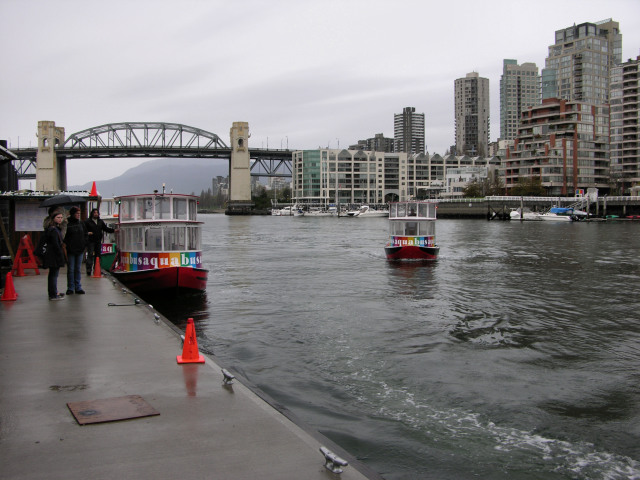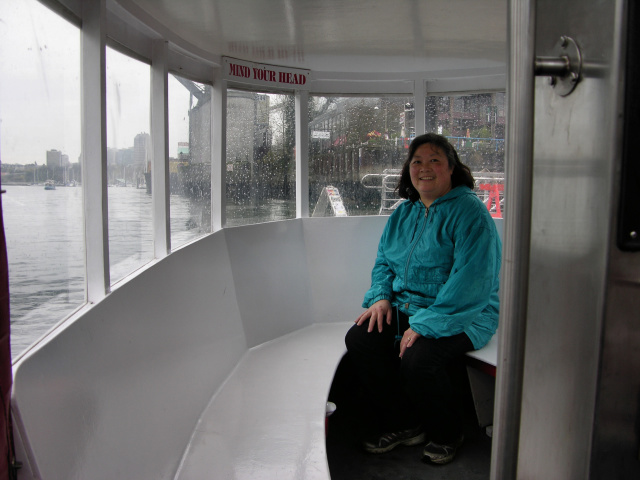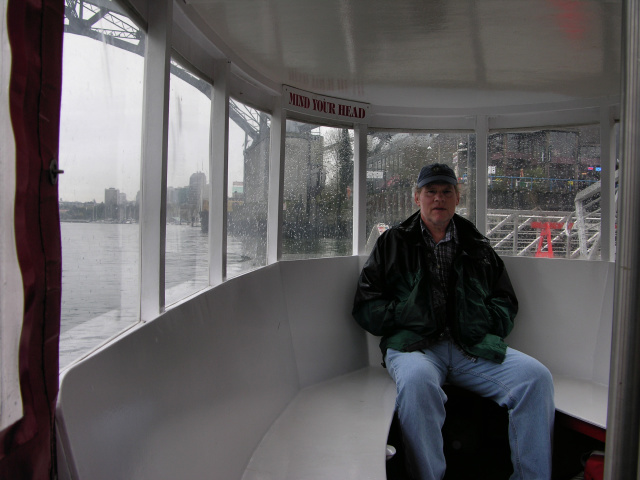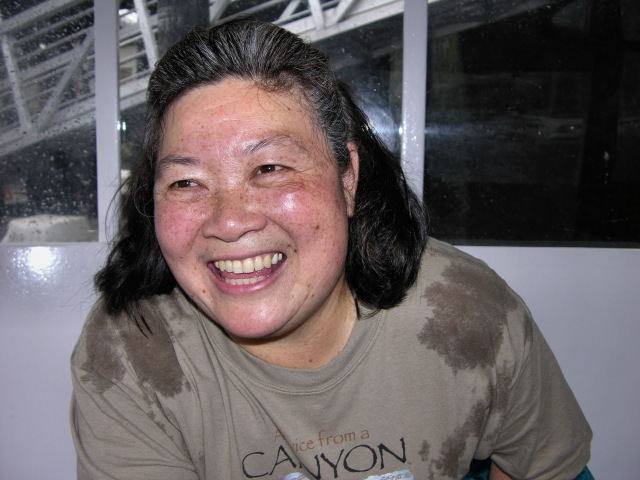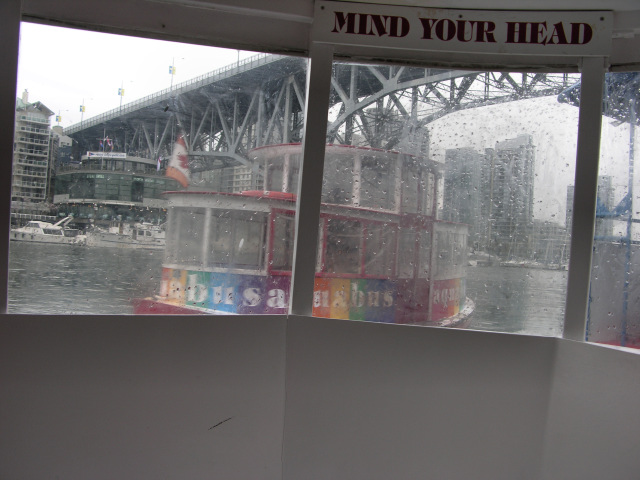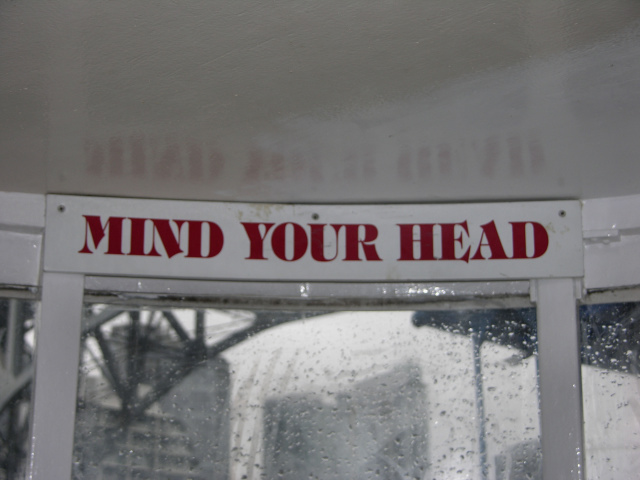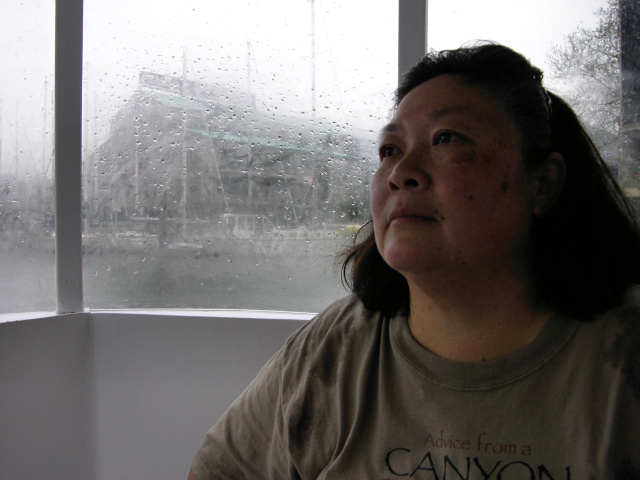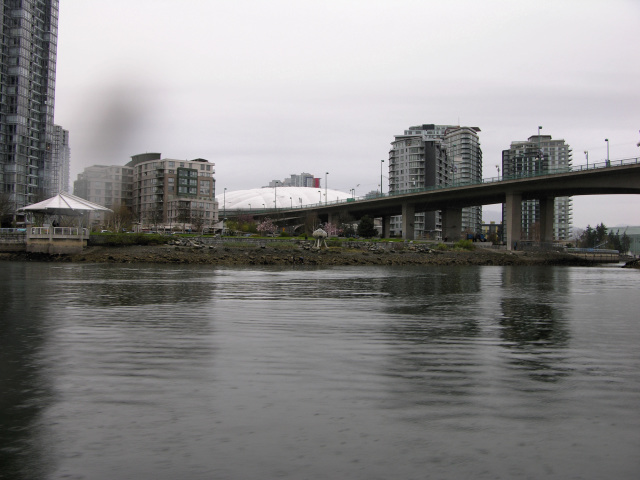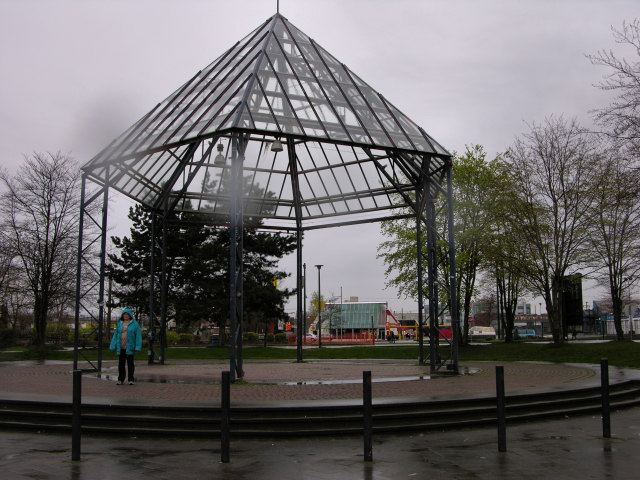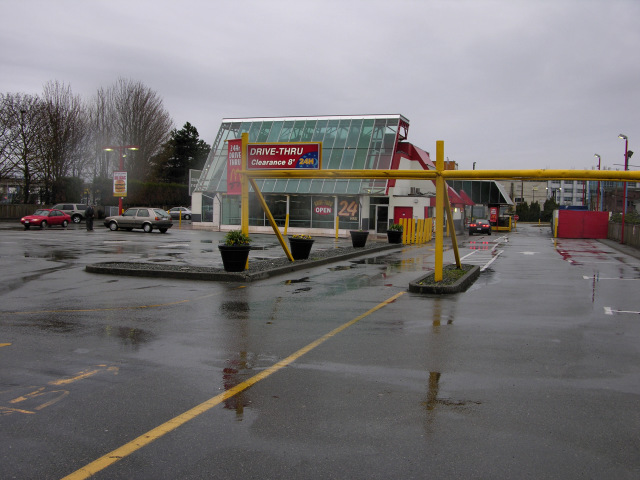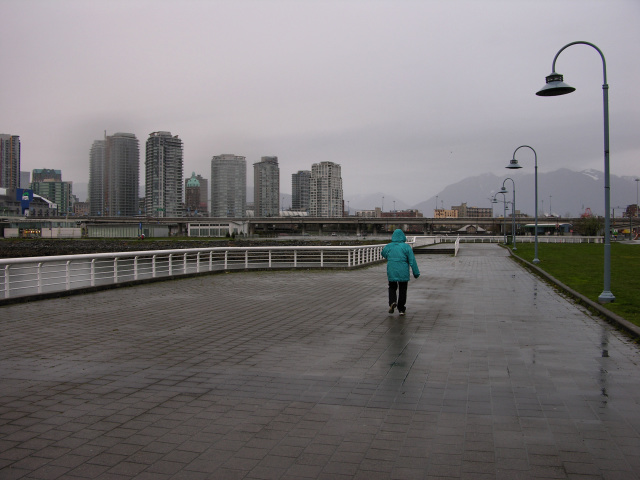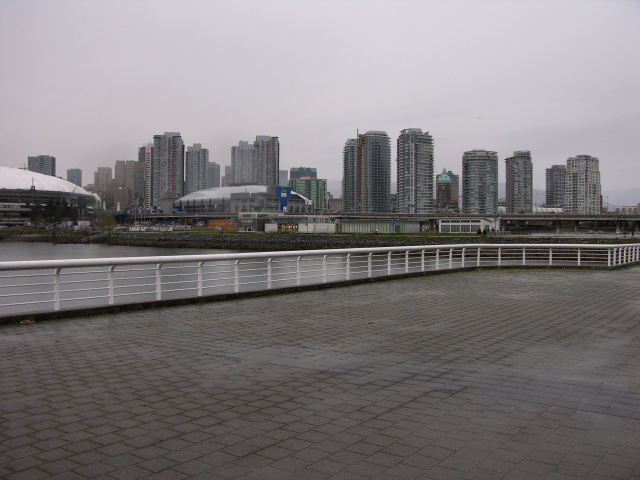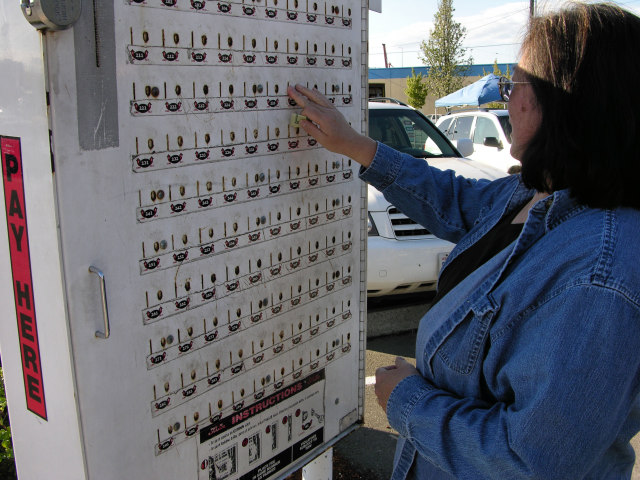 Here we are a scant 4 days later in Seattle, paying way too much to park across the street from Safeco Field, from which, as our bad luck would have it, the hordes of Mariner Baseball fans were exuding after a baseball game. The local gendarmes had streets closed off and chaos reigned across the region. We were simply trying to get to the Pyramid Ale House to meet up with old friends Jack and Ruth, and their former neighbors John and Linda. It was, in fact, Linda that sounded the alarm when she found out that Leonard Cohen would be appearing in Seattle.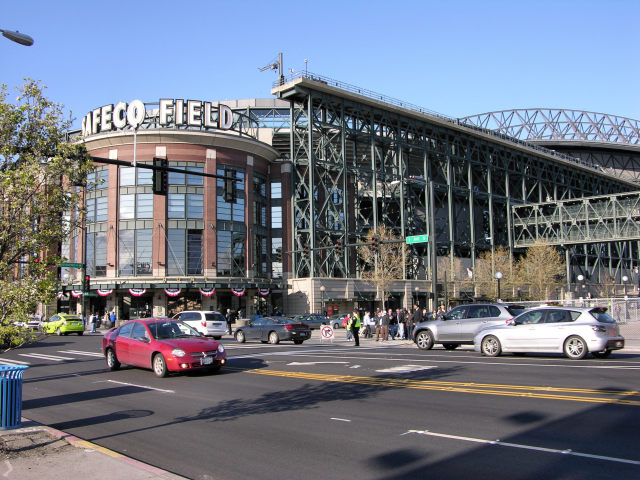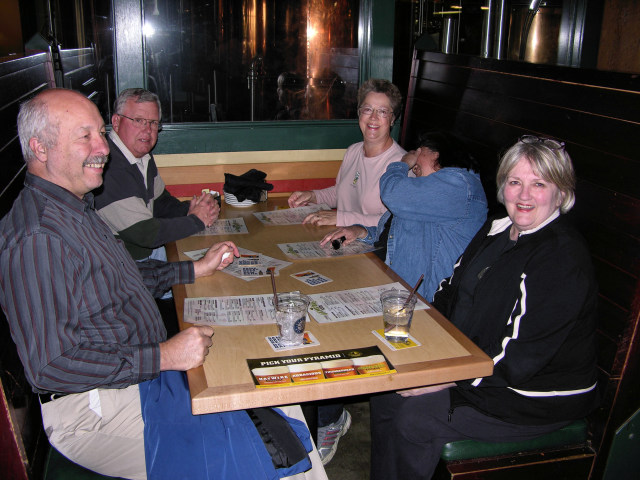 Here Sue hides her face in humiliation as the public picture taking begins. You'd think she would be so used to it by now that she wouldn't even notice, but not so...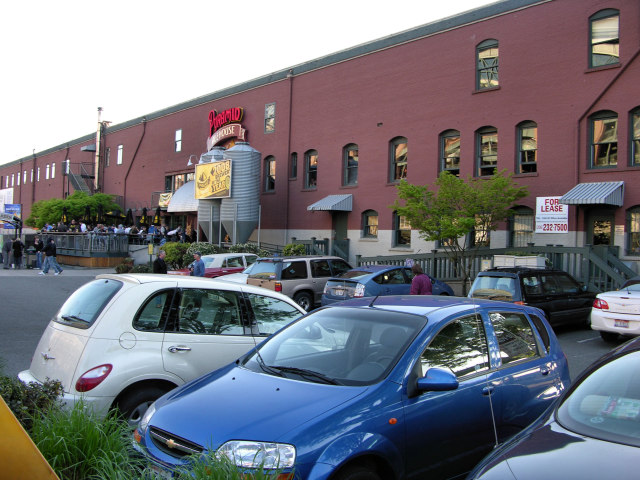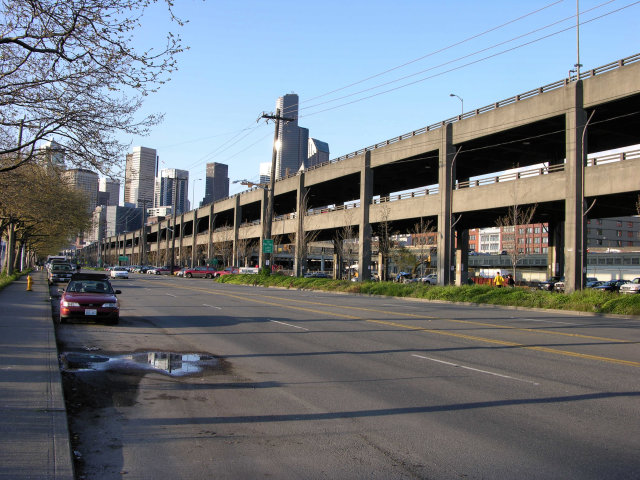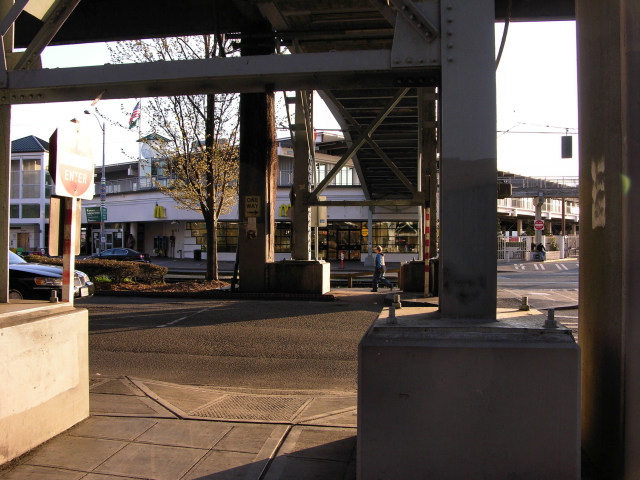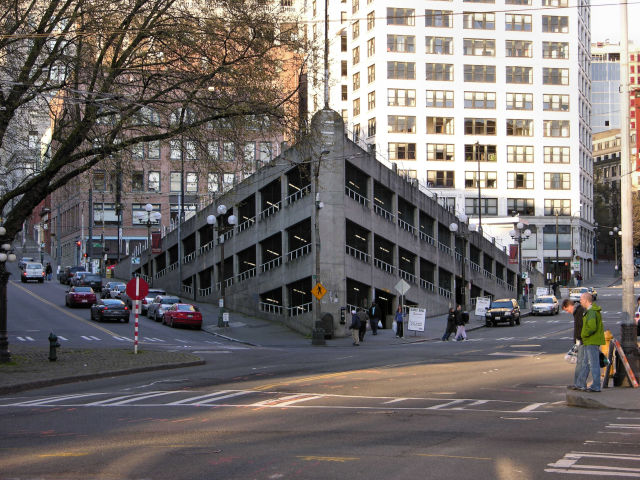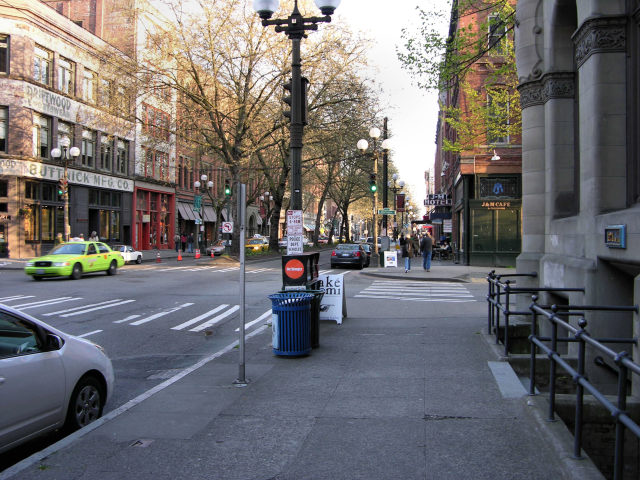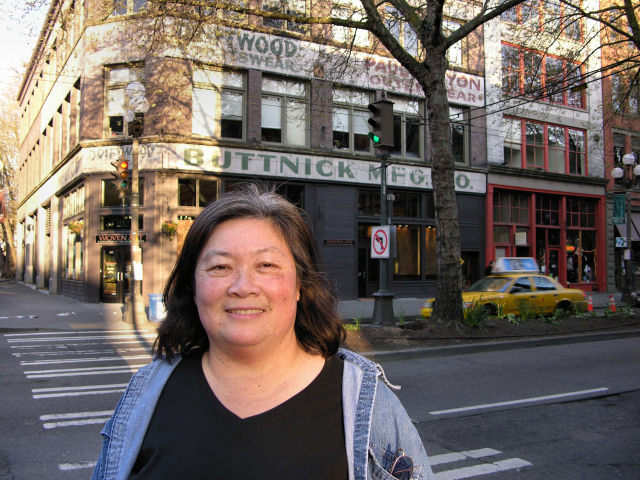 Sorry - just couldn't resist: Buttnick Mfg. Co. Then on to the concert...
Herewith the Set Lists of the concerts...
First Set

Dance Me To The End Of Love
The Future
Ain't No Cure For Love
Bird On The Wire
Everybody Knows
In My Secret Life
Who By Fire
Chelsea Hotel
Waiting For The Miracle
Anthem

Second Set

Tower Of Song
Suzanne
Gypsy Wife
The Partisan
Boogie Street
Hallelujah
I'm Your Man
A Thousand Kisses Deep (recitation)
Take This Waltz

Encores

So Long, Marianne
First We Take Manhattan
Famous Blue Raincoat
Sisters of Mercy (Seattle Only)
If It Be Your Will
Democracy
I Tried to Leave You
Whither Thou Goest
---