Friday Harbor -- September 13-14, 2003





This voyage is rated 5 mainsails out of 5 on the Voyage Mainsail-o-meter.
We converged in Anacortes on Saturday morning and shoved off for an overnight trip to Friday Harbor.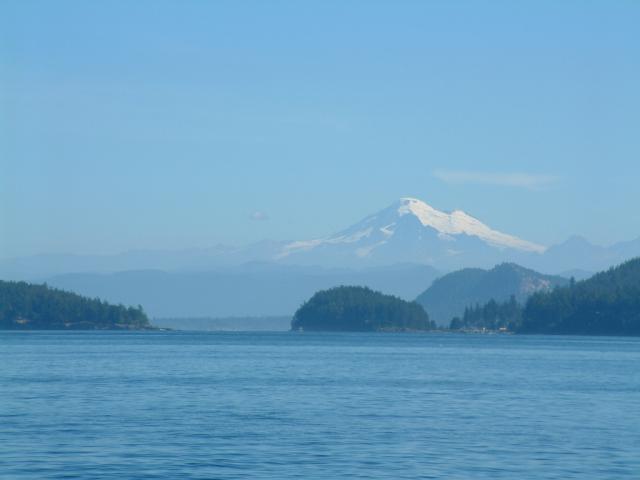 We had a good sail across to James Island and toward the north end of Lopez Island, then had this view looking back to Mt. Baker after heading down between Shaw and Lopez Islands. The out-of-practice crew committed what could only charitably be called a tack before we veered off to the west toward Friday Harbor on San Juan Island.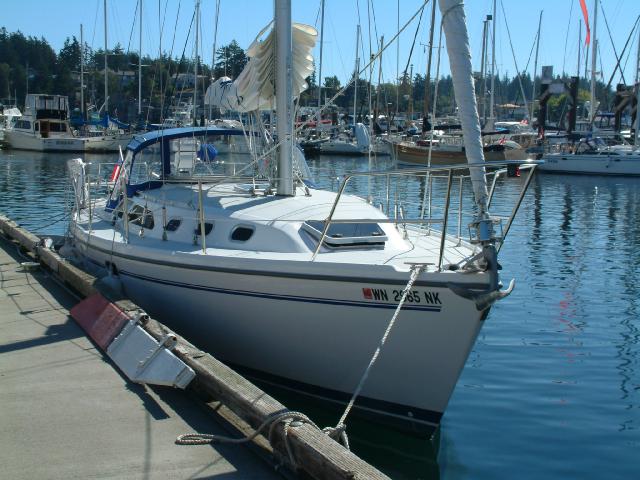 Cap'n Jack skillfully docked us at the yacht harbor, and we headed into town for the obligatory stroll through the tourist traps.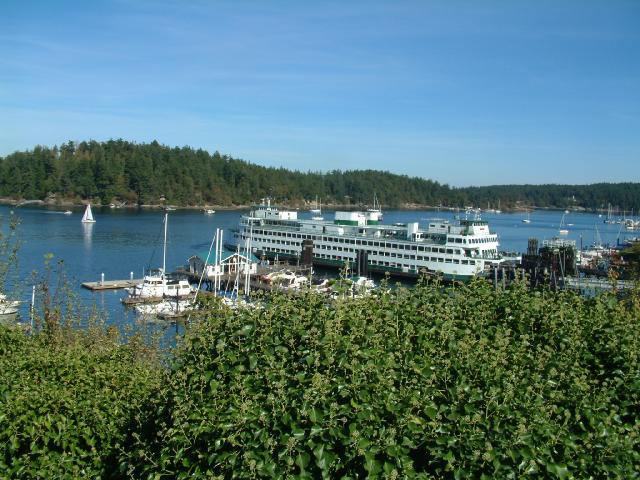 The view of the harbor was lovely from town.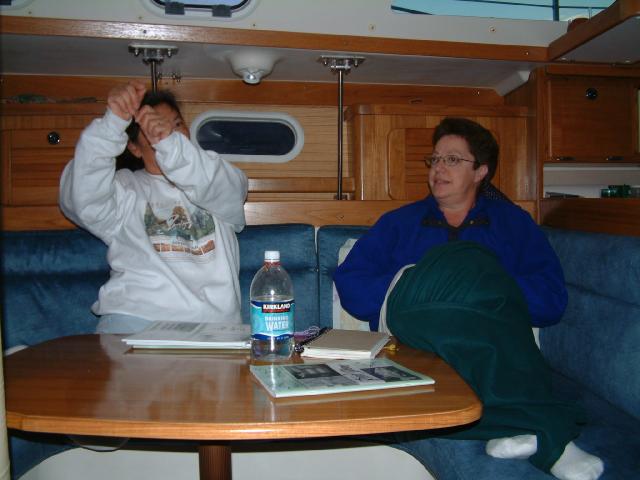 Here Sue warms up her Tiki Time Hula moves in preparation for the upcoming Jimmy Buffett concerts, while Ruth politely looks off into space pretending that everything is just fine...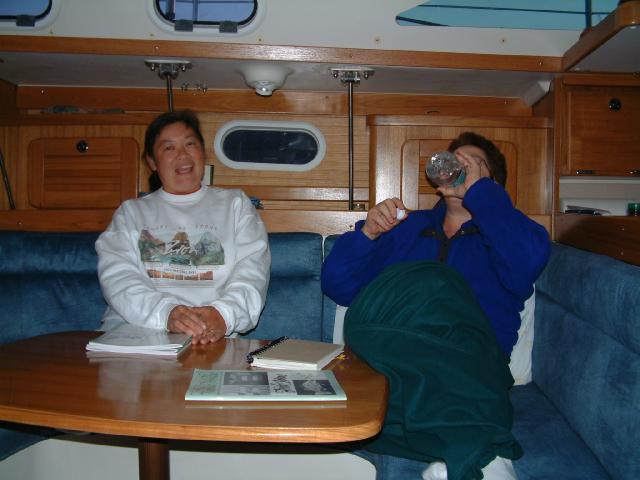 ... but could only stand it for so long, then it was 'bottoms up' right out of the bottle.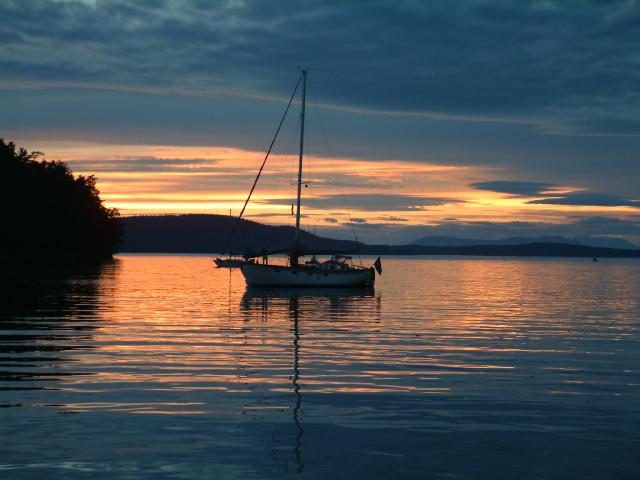 We spent the night in Parks Bay on Shaw Island, just across the channel from Friday Harbor, and enjoyed a beautiful sunset and a great bar-b-que chicken dinner, the latter thanks to Cap'n Jack.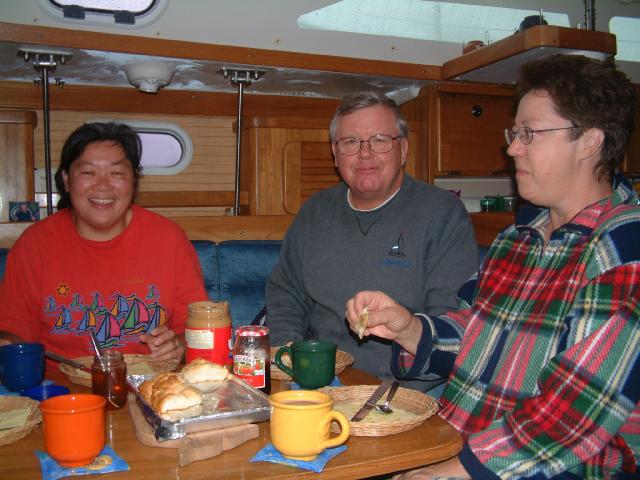 The next morning we slept in and then breakfasted on Cap'n Jack's home-made biscuits. Ruth is still regarding Sue with suspicion, while Jack smiles pleasantly at the camera. It had rained a bit overnight, but the weather improved throughout the day, with sun and scattered clouds.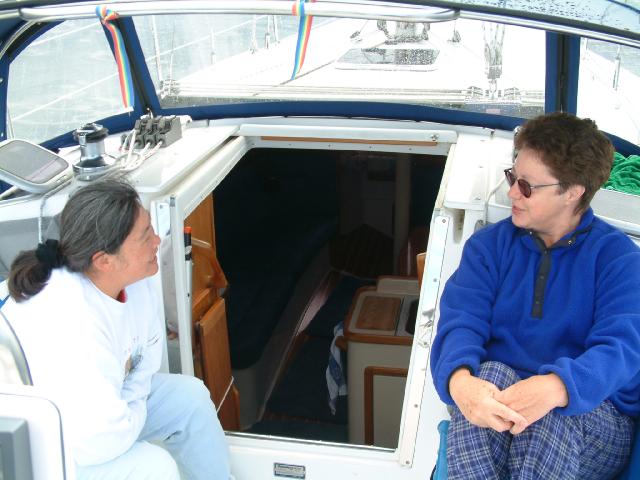 Ruth and Sue exchange stories, while discretion dictates that it not be pointed out that Ruth is still wearing her PJ's. Oops.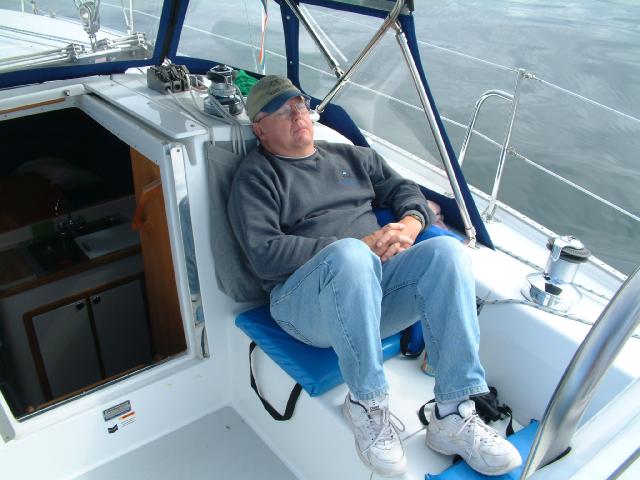 We headed south past Friday Harbor, through Cattle Passage, across the south end of Lopez, and over to Bowman Bay, just north of Deception Pass, where we caught a buoy and had lunch. Jack shows remarkable composure given that the boat is under the control of the same crew that had only the day before completely fallen apart during a simple tacking exercise.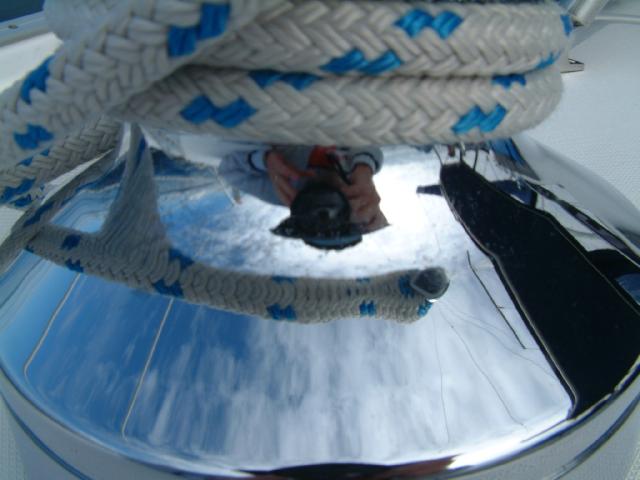 Then it was on to Anacortes and the conclusion of yet another wonderful voyage aboard the good Mariah III.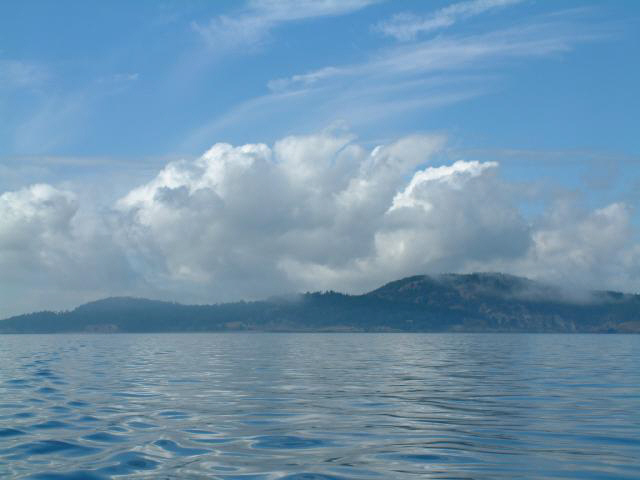 Clouds over Lopez Island.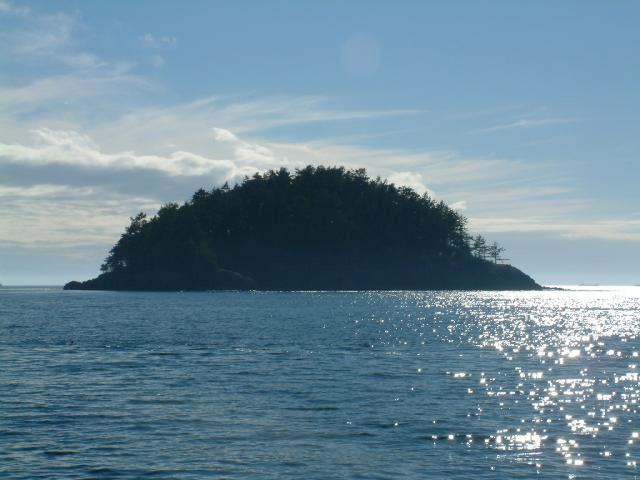 Deception Island just off of Bowman Bay.
Our thanks once again to Jack and Ruth for including us.
---